P!itD note: this article has been redacted to fit the publishing requirements of this platform. For the full information, see the link at the bottom of the page. 
Last month, antifascists working with nonprofit journalism group Unicorn Riot released over 770,000 private Discord and Slack messages from the SPLC-designated white nationalist group Identity Evropa, days ahead of their national conference. Identity Evropa was one of the main  organizers of the deadly white supremacist Unite The Right rally in Charlottesville in 2017. The private messages between dues-paying members quickly showed that whatever "optics" the hate group attempts to present publicly, they are a group of racist, xenophobic, anti-Semitic, and homophobic reactionaries hiding in plain sight. Multiple military personnel, high school teachers, college students, law enforcement officers, an accountant, tech workers, several medical professionals, and more have all been outed as white nationalists. Some are currently being investigated for extremist views and others have been fired after their racism has been proven. Almost immediately after their communications were leaked, Identity Evropa was banned from Discord and Slack forever. They attempted to re-brand as American Identity Movement, a new name with the same IE members and officers along with the exact same dues-processing structure.
In publishing a dossier on regional IE coordinator Logan Piercy, husband to equally racist and homophobic IE member Courtney, we noticed a closeness between Courtney and another member, DairyMaxx.

Sleuths dedicated to stopping the rising tide of fascism by outing white nationalists did some digging about Logan and Courtney Piercy, turning up some more information about her family, especially Sean Michael Miner.
Through our research, we've learned that Courtney's maiden name is Miner, which means that Sean Michael Miner is her brother. Furthermore, Sean Michael Miner was listed as living at the same Oceanside, California address that Courtney Miner had identified as a residence along with Heidy L Miner and Alan L Miner. With some more investigating, we learned that Heidy and Alan are in their early 60s, establishing that the Oceanside, CA address is the Miner family home. So what all happened in Oceanside and can we find more on Sean Michael Miner to connect him with the white nationalist hate group member DairyMaxx?
You bet your sweet bandana we can!
Sean Michael Miner did a great job sanitizing his social media after the Discord leaks. But as we know and the Nazis are learning, your info can live on the internet forever if you know where to look.
Using publicly available search sites and some free archive sites, we were able to dig up photos of Sean that have undoubtedly been forgotten. First we find Sean Michael Miner's Myspace page, which shows he was based in Oceanside, CA. We think he posted this and other photos in 2004, meaning he was in middle school. What's important to note is Sean's mention of Silas (the bike owner) here. Silas will play a connecting role later.

And then we went looking for the Sean Michael Miner who went to Oceanside area high schools, where we found this gem from High Tech High, North County, a charter school in San Marcos. Amusingly, it's his old junior and senior blog, located at https://sites.google.com/a/hightechhigh.org/sean-miner/ and archived here: http://archive.is/JPNXp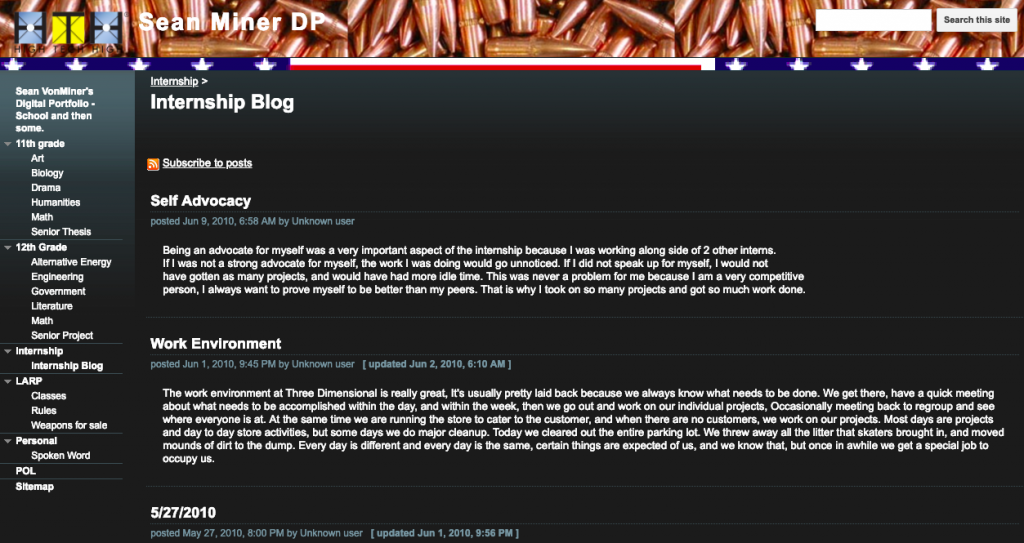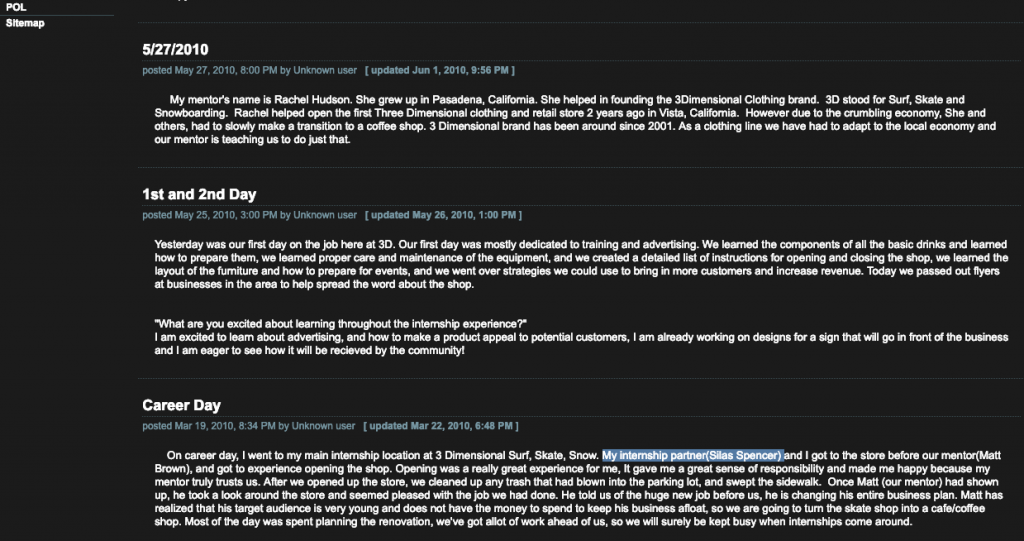 How do we know it's not someone with the same name? Remember Silas from the bike picture on myspace? Turns out Sean Michael Miner was internship partners with him:

In poking around on his high school blog, we find an important element to verify DairyMaxx's identity:
For your own amusement, we highly recommend digging through Sean Michael Miner's cringe-inducing blog pages, including the LARP, Spoken Word (read: poems), and POL sections.
Fast forward to the white supremacist group IE's Discord chat in 2018, where Mrs. L aka Courtney Piercy (the lady who texted DairyMaxx immediately after the birth of her son) is tagged when her husband posts a pic of a day at the Carlsbad, CA beach. Carlsbad is near Oceanside. Notice the runner in the first photo is wearing the same shorts as the person posing next to a "Beers for Brett [Kavanaugh]" sign.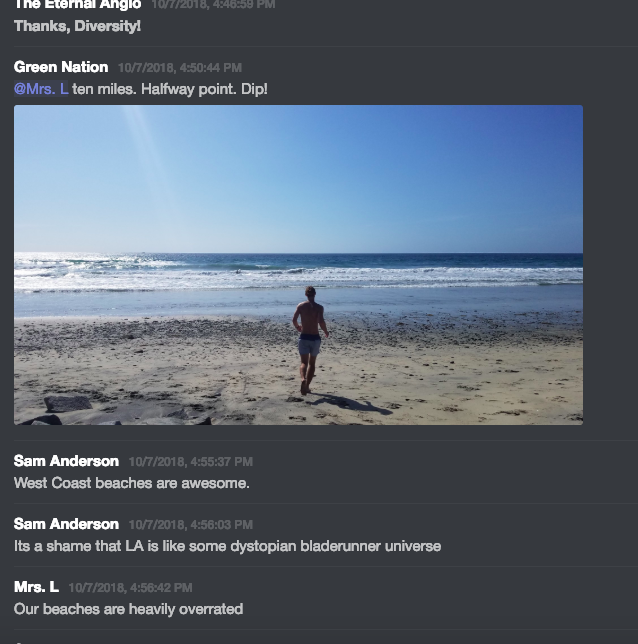 Based on the evidence above, it's conclusive that Sean Michael Miner is DairyMaxx from the white nationalist chat messages.
And the things that Sean Michael Miner believes — and shares with his fellow Neo-Nazis — are gross.

And then there's more:
Sean Michael Miner mentions that he works building skateboard decks locally and also spends time at a woodworking space where he has the ability to learn  welding. We are tracking down all the tips about these two locations so email us at panicinthediscord@ riseup.net if you've see his face or his red 4×4 truck near Vista or Oceanside, California.
Following the leaking of Identity Evropa's discord and slack communication channels, Sean Michael Miner has scrubbed his online presence. So we are left with no choice than to reach out to his parents to ask them to help lead him away from the white nationalist movement and hold him accountable. There are resources available for people looking to rebuild their lives free of hate and violence, including Free Radicals Project.
Give Sean and Courtney's father, Alan Miner, a respectful and gentle heads-up about his son and daughter's involvement in a violent neo-nazi group:
https://pastebin.com/kVAzuzg1
Redacted information about Sean Michael Miner can be found on this external website: http://archive.is/evQbT
Panic! in the Discord Antifa created this article. If you have tips on this or any other white nationalist, send them anonymously to: panicinthediscord @ riseup.net or @discord__panic on Twitter