P!itD note: this article has been redacted to fit the publishing requirements of this platform. for the full article, see the link at the bottom of the page. 
Folks in Florida may not yet be familiar with Identity Evropa/ "American Identity Movement" Neo-Nazi Patrick Julian McNally, a Certfied Nursing Assistant from Spring Hill, but there's a good chance you've seen the fascist garbage he likes to post up around the Tampa area.
In the Identity Evropa  Discord server, Patrick went by the username "Grossly Incandescent," a direct reference to the role-playing game Dark Souls character. What a guy.
Patrick revealed a lot about himself in IE's Discord server, including his age:
Patrick lives in the Tampa area of Florida, where he frequently posted photos of fascist propaganda he left at various military sites in Hernando Veterans Memorial Park in Spring Hill, Florida, north of Tampa. This location will become important.
Patrick and other members of Florida's IE chapter went to a Trump rally together (though it might have just been Patrick and his dad), which is partially how Patrick helped doxx himself.
He also mentioned on October 1, 2018 that he passed his CNA exam:

This tidbit gave us a huge clue to his identity. Unfortunately for Patrick, Florida has laws that make all kinds of records open and available to the public. Through a simple records search, our researchers found Patrick via his public CNA license.
The amount of information Patrick gave away about himself in IE's Discord server also helped our researchers glean information about other fascists in Patrick's family. According to Patrick, his dad began to identify as a white nationalist in 2018. His dad also went to a Trump rally with him in Tampa where Patrick says he was "networking" for IE. We'll get to more info about Patrick's family later in this post.
Let's quickly get to Patrick's social media presence. It appears that he doesn't have a Facebook profile that is public or attached to his legal name. He does, however, have at least one Twitter account and a public LinkedIn.
One of Patrick's "sock" Twitter  accounts was uncovered by examining his Discord posts (see photo below) . Based on his Discord posts, it appears he may use multiple sock accounts at different times that he uses to harass people. He clearly takes liberal advantage of Twitter's Nazi-friendly policies. Another of his Twitter accounts, @gr055ly (archived here: http://archive.is/COiyN) is still live for now, until he freaks out after getting doxxed and deactivates. You can almost set your watch by nazis' cowardice…
Onto Patrick's LinkedIn, located at https://www.linkedin.com/in/patrick-mcnally-053a57173/ . His LinkedIn profile photo matches the same face he posted multiple photos of wearing a green "MAGA" hat a Tampa Trump rally, and confirms that he is a CNA who lives in the Tampa area.
Patrick's LinkedIn also indicates that he may have past affiliations with the military. He notes that he has "military training."
Now that we know where Patrick has a job (until the phone calls start hitting his employer's office), back to what we mentioned earlier about his family.
When he wasn't chatting about building an ethnostate in IE's Discord server, he was constantly talking about how eager he was for his wife to have their baby, Gwendolyn. While preparing for their baby Gwendolyn's arrival, Grossly Incandescent posted a baby registry with his and his wife's name: Katie.
The address listed for Patrick's CNA was listed in Spring Hill, Florida. Using this address, we were able to connect Patrick to his wife, Katie Therese Long. They are both 29-years-old.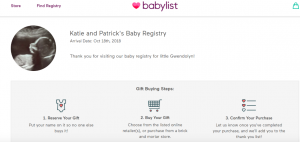 Patrick and Katie's baby was born on 10/19/18 and Patrick posted a pic of himself in the Discord, holding his moments-old daughter while wearing an Identity Evropa shirt. It seems highly likely from all the photos Patrick posts of him holding his daughter and the IE flag he has displayed in their home that his wife is aware of his membership in a Neo-Nazi organization.
As for Patrick's dad, Peter, we feel that a man who identifies as a white nationalist and helps his kid network for a fascist organization at a Trump rally also deserves to be outed. Patrick mentioned in the IE Discord server that his dad was an accountant, and also gave us a helping hand by including a photo him right next to his dad at a Trump rally, so we already knew what his old man looked like.
Enter: Peter J. McNally, accountant and peddler of "wellness" goods from a shady company called Nikken. You know a company is bad when one of the most popular terms used next to the company name is "pyramid scheme."
Considering his dad is listed as the CEO & President of the Irish International market for Nikken, and self identifies as a white nationalist, it can't be more obvious that he is a terrible person. Pyramid schemes are incredibly predatory. Friends of Trump are no strangers to pyramid schemes, as Betsy Devos' husband is the president of Amway, one of the biggest MLM scams in the country. We are not surprised at all to see that more Neo-Nazis are parading around the halls of predatory capitalism.
Here's Peter's LinkedIn:
Unlike Patrick, Peter has an easy-to-find Facebook account. The information we gleaned there only confirmed that Patrick and Peter are the racist father-son duo Patrick posted a photo of at the 2018 Trump rally in Tampa. Peter also posted a photo of Katie and Patrick together.
We here at Panic! In the Discord believe that Neo-Nazi Patrick Julian McNally should not be allowed to provide medical care to others—being a fascist makes it impossible for Patrick to provide the best quality care to vulnerable patients. If you agree, feel free to get in touch with Patrick's employer:
Right At Home in Home Care and Assistance
Phone number: (727) 844-3570
Facebook: https://www.facebook.com/RightAtHomeWestPascoNorthPinellas/ Email: mcurry.rightathome@gmail.com
Twitter: @rightathomeUS
Visit https://www.rightathome.net/west-pasco to file an anonymous complaint about the white nationalist working with vulnerable patients.
Patrick's dad, Peter J McNally, probably shouldn't have a job either, given that he's also a Neo-Nazi like his son. The company where Peter is an accountant, CAE USA, is based in Tampa, and provides services to the military, civil aviation, and healthcare industries. Not the best look to have a white nationalist on your payroll! You can email CAE USA to tell them how you feel about Peter's worldview at media.relations@cae.com or tag @CAE_Inc on Twitter.
And here's the contact info for his other employer, Nikken:
Twitter: @NikkenHQ,
Customer support line: (800) 669-8859 option 2
Email: consultantservices@nikken.com to let them know that one of their CEOs, Peter McNally, is a white nationalist whose son brags in Neo-Nazi chatrooms about how radicalized his father has come due to his granddaughter's birth.
Families who get radicalized to Neo-Nazism together get doxxed together! Patrick knows what he did to try to throw antifascists off his scent, but the rancid stench of Nazi scum is just too pungent. Wherever fascists try to hide, they will be found out and they will face consequences.
You can read all of Patrick McNally's posts as "grossly incandescent" in Identity Evropa's "Nice Respectable People group" Discord server here.
The full unredacted article can be viewed at the following link:
http://archive.is/uITGa
Panic! in the Discord Antifa created this article.
If you have tips, send them to: panicinthediscord@riseup.net or @discord__panic on Twitter.