P!itD note: this article has been redacted to fit the publishing requirements of this platform. For the full article, see the link at the bottom of the page. 
This article was written by Anonymous Comrade, published on their twitter, and republished on here with their permission. To follow them and their solid doxxes, see twitter.com/anonymouscommie
The cast of characters exposed in the unraveling of Neo-Nazi street gang Identity Evropa (now rebranded as American Identity Movement aka AIM/AmIM) has been fascinating and horrifying. Doctors, accountants, college students…people from all walks of life have been outed. Identity Evropa has generally presented a Nazi Youth facade, pushing forward clean cut young men and women to mask their indisputable racism and anti-semitism.
By that measure, 63-year-old Mitchell Craig Brooks from Monroe, Georgia would seem an odd man out. Odd he certainly is, while he self defined himself as a former "long-haired redneck," in truth he spent the last few decades living in the Bay area in California where he spent 25 years in the design department of the Sacramento Bee newspaper. When he was laid off in 2014, he returned to Georgia where he currently resides. Please meet OMGDwayne, a prolific, grumpy, and annoying shitposter in the Discord for Identity Evropa.
It didn't take long for Mitchell Craig Brooks to start espousing his racist garbage onto the Identity Evropa servers, where he found like-minded folks.

He left a lot of clues as to his identity, talking frequently about his age, former employer and residence, his current home, and many unique aspects of his history. Here's a quick recap of the basics (to search his entire user history, see Unicorn Riot's awesome search tool for all of the Nazi discord servers).
And then, posting as OMGDwayne, Mitchell Craig Brooks casually outed another of his online personas in the Identity Evropa server:

From there, it was a quick google search of his not-so-believable name that lead us to his public, racist, and kinky posts. It became clear that Mitchell didn't become a Neo-Nazi overnight, using the alias Fisk Ellington Rutledge III, he has been posting racist comments on a variety of websites for years.
But let's look at some of his own words to get a sense of what sort of man Mitchell Craig Brooks really is.
CW: racism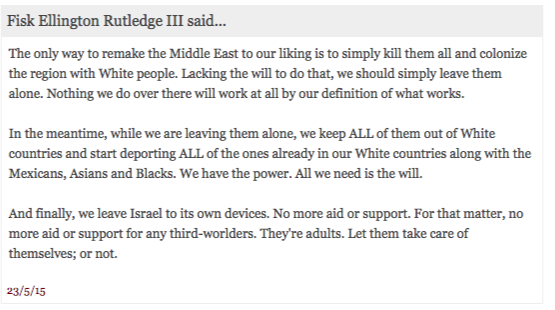 And finally, the clincher, in 2014 where Fisk aka OMGDwayne drops his place of employment, the Sacremento Bee, when discussing in the comments of an article called "
#NextAmerica: It's Already Here in 2014 New Jersey
" posted on UNZ, a VDare-affliated site: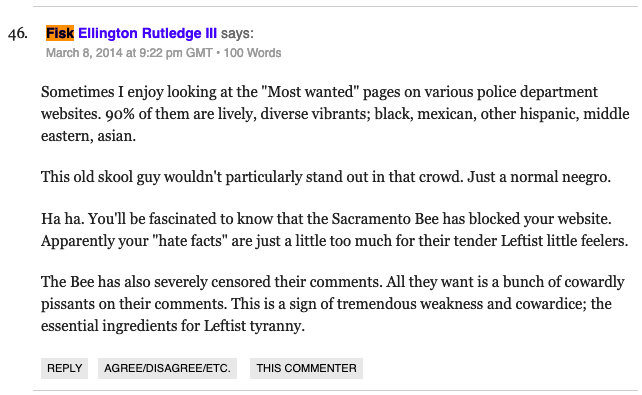 How many unemployed older, white male graphic designers moved from Georgia to California for graphic design work at the Sacramento Bee for 25 years? The answer is only one: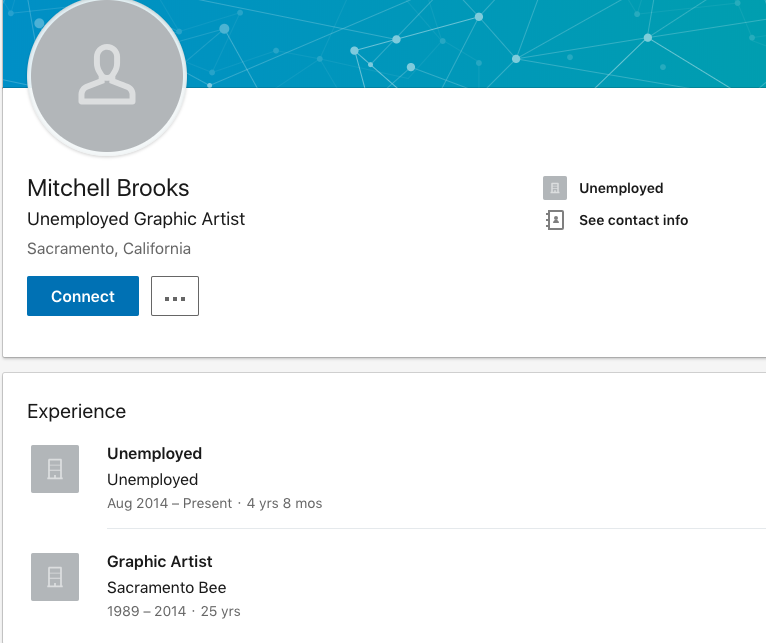 From there, it was an easy jump to facebook where his public profile (archived
here
) was the same pic he posted in the Discord server, decrying his hippie fashion: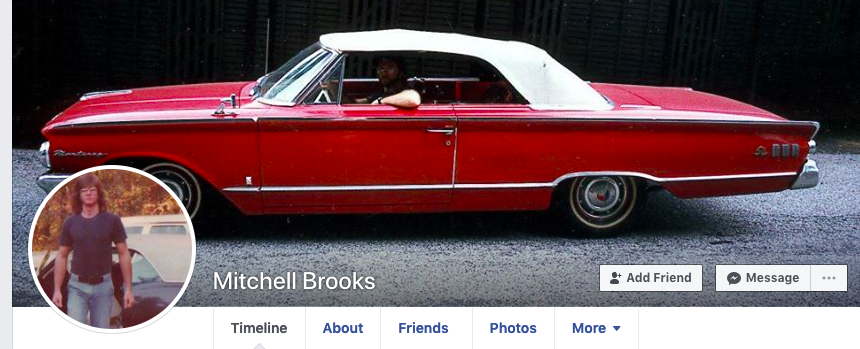 Further corroborating information pulled from his Facebook:
Of course, exposing your inner workings, prejudices, and predilections in public can also mean people get to see the whole thing. One can only wonder how pseudo-Puritanical Identity Evropa (and presumably the rebrand American Identity Movement) with bans on cussing and crude language, would feel about Mitchell Craig Brooks avid interest in bondage pornography?
CW: NFSW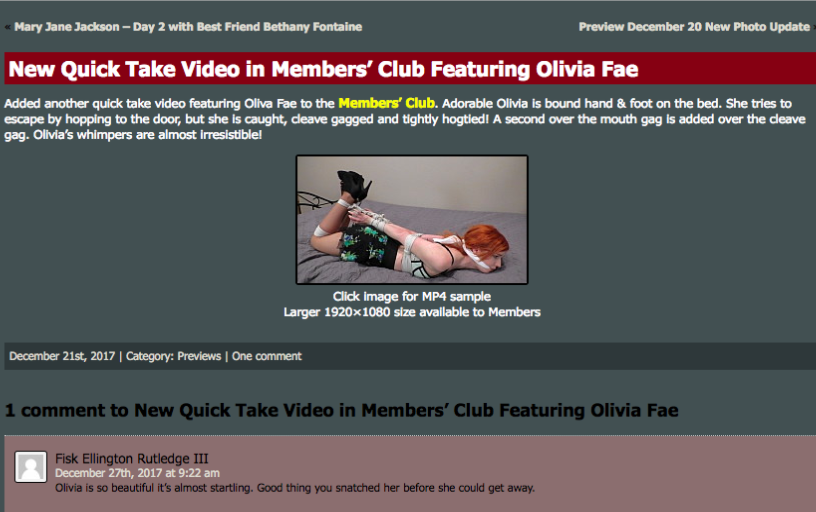 The redacted info can be viewed at the following link: http://archive.is/1ZT3z
With permission, Panic! in the Discord Antifa published this article written by Anonymous Comrade, twitter.com/anonymouscommie
If you have tips, send them to: panicinthediscord@riseup.net or @discord__panic on Twitter