P!itD note: This dossier was compiled using publicly available information and was written in accordance with the publishing criteria of this platform.
Here's another one for the Identity Evropa/AmIM doxx pile!
Alec "Pi is a Lie" Kerrigan, was kind enough to use his real name on Identity Evropa's "Nice Respectable People Group" Discord server, much of which was leaked by Unicorn Riot a few weeks ago, prompting Identity Evropa to rebrand into American Identity Movement. While Identity Evropa/ AmIM presents itself as "identitarian" and merely "pro-white" without advocating hate for other races, a look behind the curtain lays bare the group's basis in National Socialist ideology. Kerrigan used at least two aliases in the IE server, "Alec 'Pi is a Lie' Kerrigan" and "AlecK-FL."
This SPLC-designated hate group was involved in the planning of the deadly 2017 Unite the Right rally in Charlottesville, where Heather Heyer was murdered by a neo-nazi.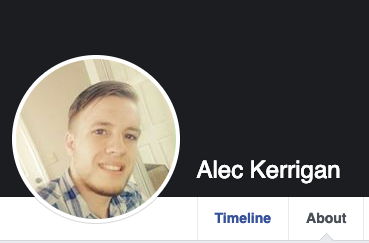 Using messages Alec posted in IE's Discord server, our researchers quickly learned that Alec's real name is Alec Kerrigan, he lives in Florida, and he's in college.
In the screenshots from IE's Discord server above, you can see Kerrigan making the same statement about using the "same process with fliers" under both usernames.<
His Facebook "About" page — where he has posted a number of racist quotes — is a pretty obvious indicator of not only his neo-nazism, but also that IE's "respectability" obsession is just a show. Their thin veneer of optics is a cover for sneering white supremacy and hatred for people of color.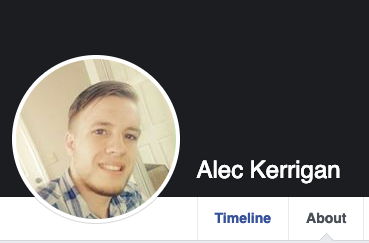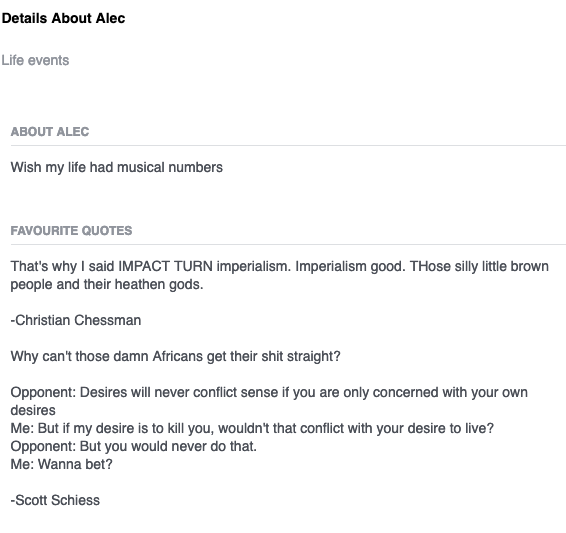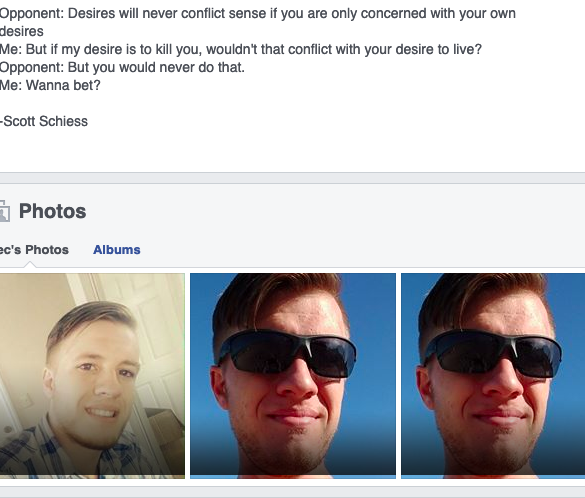 Thanks to his Facebook "Likes," our researchers pieced together that Kerrigan attends the University of Central Florida. 
From there it was easy to find his Twitter, where he posted a familiar face: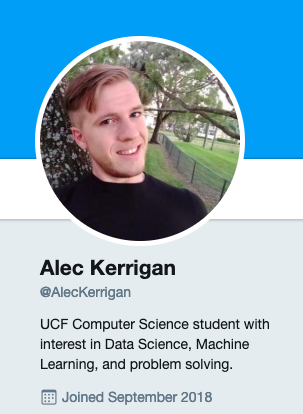 Gotcha! We were able to positively identify that when he's not posting Breitbart articles to the IE's Discord server, Kerrigan studies computer science at the University of Central Florida.
Since the Discord chats leaked, he's been trying to clean up his Twitter account so he wouldn't look like such a racist. He started claiming to "want to help the underprivileged with technology," deleted his old posts, and started over in an attempt to hide that he's actually a fascist prick.
The danger of white nationalist group Identity Evropa — now American Identity Movement — recruiting from college campuses is multi-fold.
First IE/AmIM leadership uses college students to build more bridges to the Republican Party. Although Casey states that infiltrating the Republican party is not a goal of Identity Evropa, he does make multiple suggestions about how to create front groups that wouldn't "draw the ire of the SPLC [Southern Poverty Law Center]." Casey states that there are active front groups who are doing just this. He instructs his followers to: "… create a San Diego MAGA group …create a Discord server, you can create a Facebook page you can get people involved and chapters … there are IE chapters doing this. I'd like to see more of them do it. And they have facilitated recruitment to Identity Evropa through these front groups."
Second, allowing a pro-white, anti-Semitic, anti-gay group to exist on campuses directly interferes with the safety of other students. White nationalist, far-right groups have a genocidal agenda that they attempt to hide behind more "respectable" optics. This sort of organizing on college campuses poses a direct threat to the student body, especially to students of color, queer students, Jewish students, and more.
College campuses are already under attack, not only from white nationalist groups organizing there, but from the institutions that protect them. Just last week, Donald Trump signed an executive order connecting research funding for college campuses to the First Amendment. The White House essentially backed white nationalists organizing and speaking on college campuses, posing a direct threat to the student body and their rights to defend themselves.
Share Alec Kerrigan's dossier and tag @UCFcomsci (the UCF Computer Science Department) and @UCF demanding they expel Alec Kerrigan, the white nationalist member of IE from their school for the safety of fellow students.
Redacted information about Alec can be found at this external website: http://archive.is/MCWuq
Alec Kerrigan's Facebook is archived here: http://archive.is/8MITZ
Panic! in the Discord Antifa created this article.
If you have tips, send them to: panicinthediscord@riseup.net or @discord__panic on Twitter.