P!itD note: This dossier was compiled using publicly available information and was written in accordance with the publishing criteria of this platform.
Logan and Courtney Piercy are a Montana couple and members of the fascist group Identity Evropa. Our researchers examined posts from IE's recently leaked Discord server, "Nice Respectable People Group," and used publicly available records to determine that two users, "Green Nation" and "Mrs L," are in fact Logan and Courtney Piercy, formerly of California and now living in Montana with a new baby.
Logan changed his Discord username from Green Nation to Logan and then back again, and Courtney changed hers from "Mrs. L" to missliterallywho.
Before he was a member of Identity Evropa, now re-branded to the "American Identity Movement," Logan wrote for the college paper at the University of Santa Barbara in 2010. Logan revealed that he studied statistics in school.
Both members of the Identity Evropa SoCal Chapter, Logan and Courtney began dating through Identity Evropa, and then got married:



In IE's Discord server, Courtney talks of traveling with others to Unite the Right 2 in Washington D.C. in 2018, clarifying that she was likely one of the few fascists who showed up to Washington D.C. for Jason Kessler's sequel to 2017's deadly nazi riot in Charlottesville:

Together, with another IE member who used the alias "Nemets" on Discord, they put up fliers at University of California at San Diego, California State University Fullerton and nearby at Muir College, San Diego.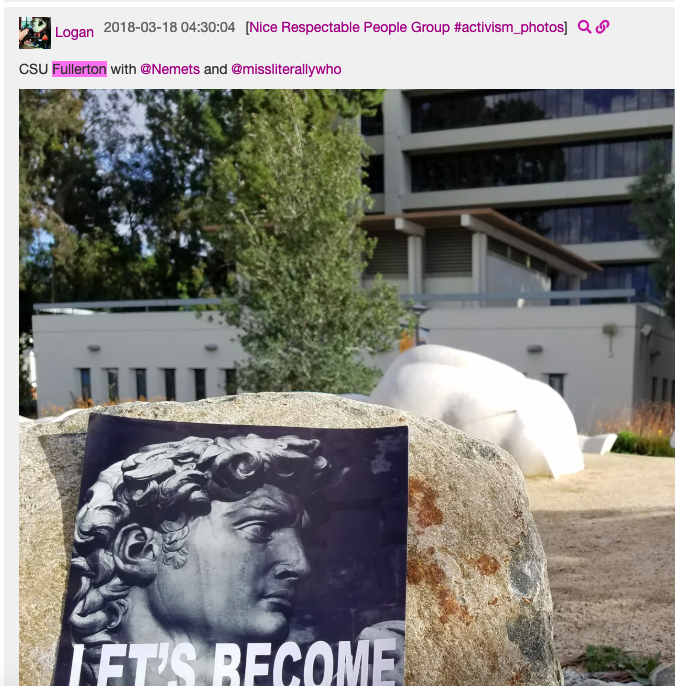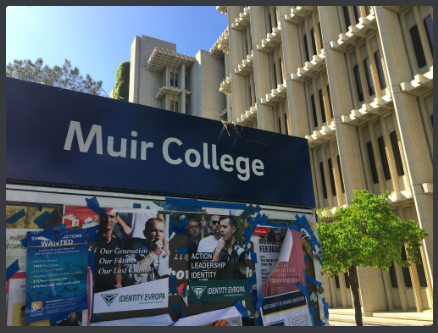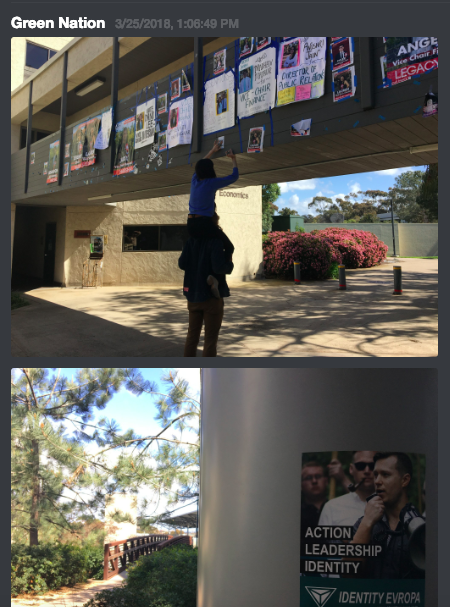 It's clear that the Piercys shared hatred for the "other," a propensity to conspiracy theories, a mutual admiration for Andrew Anglin, the Daily Stormer, and Bash the Fash are their main attraction to one another.
So it's obvious they're neo-nazis from their membership in a neo-nazi organization and their sickening posts among that group. But who are they in "real life"?
It was easy to find their faces, given that they provided the photos themselves in IE's Discord server. Logan posted a cleanup day with fellow fascists. Conservation is important, especially if you're a former Eagle Scout, eh Logan?
Here's another photo "Green Nation" posted from this same event, but this time, one of the men in the photo is cradling a pregnant woman's stomach. That would be Logan and Courtney Piercy.
The Piercy's discussed Courtney's pregnancy frequently in IE's Discord chats, since propagating the "white race" is extremely important to fascist creeps. Their son, William Lee Piercy, was born on 9/17/18, according to Discord posts made by the couple. Courtney and Logan posted photos of their son occasionally after he was born.
It was already evident from their posts that Logan and Courtney are a couple, and there were no other pregnant IE couples in the South California chapter at the time this photo was taken.
Soon after the baby was born in September of last year, the Piercy family dipped from Southern California and headed to Montana, where they currently live. They lived out of a motel at first, with Logan spending his time canvassing for Republican Senate candidate Matt Rosendale while Courtney mainlined Fox News.
We know from posts in the IE Discord server that Logan lied to his boss when he asked for time off to attend Identity Evropa's conference, "Leading our People Forward." A nazi who lies? How novel.
Logan got a new job in January of 2018 working the graveyard shift as a company driver. Our research crew is still looking for tips regarding Logan's job, so if you have any information, please contact us using the information at the bottom of this post. Logan also said in the "Nice Respectable People Group" server that he may be seeking a political job in the near future, so exposing and confronting his neo-nazi activism immediately is imperative.


The photos gave us intel about what the Piercy's look like, and other trails they left made it only too easy to connect their usernames and photos to their identities.
At one point, Logan posts in the IE chats that he "wrote a thing," and posted links to a website called "ecoamerican.us":


What's essential here is the name of his website. A whois search reveals the following information about the owner of EcoAmerican.us:
Gotcha, Logan. The best own is a self-own. This information verified Logan's identity, and provides further information about the couples' whereabouts as well as contact information, all of which was available in a search of publicly available records.
The Piercy's were living in a motel right after their move, according to Logan's posts in IE's Discord server, but we know they have recently moved into a house.
You can read all of Courtney Piercy's posts in the "Nice Respectable People Group" as "Mrs. L" and "missliterallywho" here. You can read all of Logan Piercy's posts as "Green Nation" and "Logan" here.
Panic! in the Discord Antifa created this article.
If you have tips, send them to: panicinthediscord@riseup.net or @discord__panic on Twitter.