P!itD note: this article has been redacted to fit the publishing requirements of this platform. For the full information, see the link at the bottom of the page. 
This article was made possible by major contributions from Anonymous Comrade as well as a review by IdentifyEvropa. 
Discord user NuclearReactionary, who appears on Identity Evropa's "Nice Respectable People Server,"that was leaked in March by Unicorn Riot, has been identified as none other than Valley Christian School teacher
Kyle Aaron Scheuerlein, age 30, of San Jose, California.
The group Kyle Aaron Scheuerlein belongs to is Identity Evropa, now rebranded as American Identity Movement is an extremist white supremacist hate group, designated by the Anti-Defamation League (ADL) and also by the Southern Poverty Law Center (SPLC). In 2017, the group and its members played a key role in organizing the white nationalist rally in Charlottesville, VA, where, in addition to brutal street fights and torchlit marches, an attendee murdered a protester and injured dozens more when he accelerated his car into a crowd.

When Unicorn Riot leaked the entirety of the Identity Evropa server, they included MacGuyver – Skills & Academics. This server was critical in establishing  a picture of who NuclearReactionary is and tying it to his real identity.
First, we start off with this message from Kyle Aaron Scheuerlein where he describes that he has been trying to code computers for several years, but now wants to start taking it seriously. He also asks for help from members of the server pertaining to resources he should use to build his coding skills, to meet his goal of getting a tech related job this summer.
Then he drops a huge gift to us:


This means he started a coding bootcamp called Treehouse, and plans on finishing it in three months- that is in March or April of 2019. Then, he goes on in this conversation to out himself even more- this time as a teacher.


Then, user ThisIsChris, asks Kyle Aaron Scheuerlein this:



to which later on in the chat Kyle Aaron Scheuerlein replies:



So, now we are looking for a guy named Kyle, from San Jose, California who happens to be a private school teacher, who is looking to work in tech, has a degree in music, and who just recently completed the Treehouse coding camp.
This was enough compounding information to lead us to only one suspect, that is Kyle Aaron Scheuerlein a Valley Christian School teacher.
From his LinkedIn: Kyle Aaron Scheuerlein just finished a certification in the Treehouse coding camp for Front End Web Development in March of 2019, as NuclearReactionary suggests, and has a degree in Music, which Kyle also spoke about in the message above.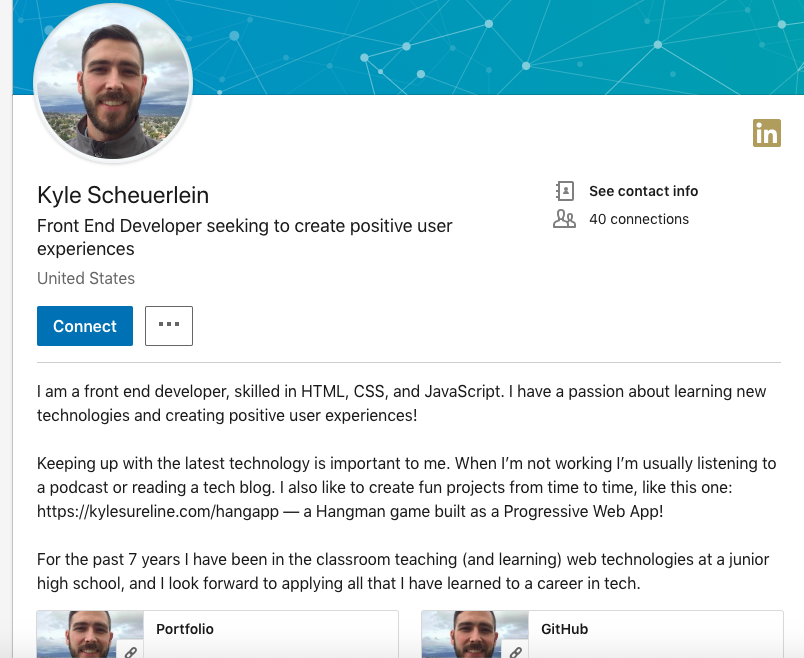 He's also a teacher at a private school in San, Jose California. Here is his photo from Valley Christian Schools directory: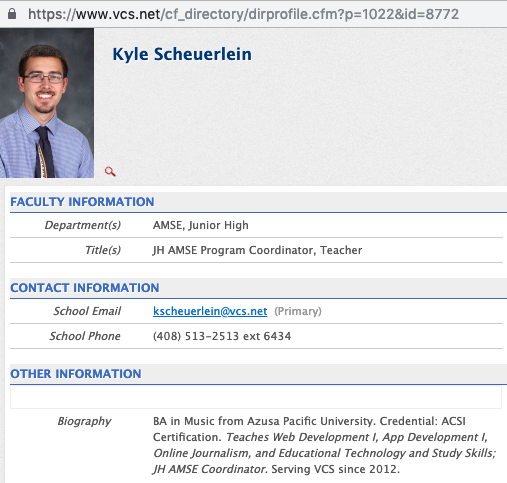 The university he went to for his undergraduate studies, Azusa Pacific University, is an evangelical private school and the School of Music there has a Commercial Music Major with a Music Business Track, which matches up exactly to what NuclearReactionary was talking about in his message above.
Kyle also posts in a channel of the MacGuyver server known as #i-have-kids, where he talks about his wife:



This suggests that Kyle both has a wife and kids. We were able to find Kyle's wife's Facebook account, as well as his (albeit his has been scrubbed clean). We were able to verify that Kyle, married to Laura, does indeed have two children, a boy and a girl, as his participation in that channel suggests.
According to VCJH, they have goals which are in complete contrast to Kyle Aaron Scheuerline's dedication to a white ethnostate and involvement in a white nationalist hate group: "While the VCS Quest for Excellence™ is evident in the stellar programs we offer at VCJH, the true value of our school is in the amazing faculty and staff who translate these incredible resources into a safe, nurturing environment as these students transition from elementary school and prepare for high school. With a firm foundation in Christian values, we strive to create a community that challenges our students to aspire toward lives of character, service, and influence as they pursue their individual Quests for Excellence. We are honored to partner with parents in the education, growth, and development of the young people who attend VCJH during this exciting and pivotal time in their lives," quoted from VCJH's welcome page.
Call and send a respectful email to Valley Christian Schools, Kyle Aaron Scherueline's school and let them know they're exposing children to a white supremacist to the children they're supposed to be nurturing and developing: dkim@vcs.net, amse@vcs.net, and 408.513.2584.
Valley Christian Schools can also be found on facebook at https://www.facebook.com/vcsamse/ and Instagram: https://www.instagram.com/vcsamse/ and Twitter: https://twitter.com/vcschools
Finally, Kyle Aaron Scheuerline also talks about his weight in another server, the Identity Evropa fitness server, as being around 153 pounds.


Well, you can see for yourself:
Redacted information about Kyle Aaron Scheuerline can be found on this external website: https://archive.is/cGhiw 
Let's keep children away from the fascists.
Panic! in the Discord Antifa created this article. If you have tips on this or any other white nationalist, send them anonymously to: panicinthediscord @ riseup.net or @discord__panic on Twitter