P!itD note: this article has been redacted to fit the publishing requirements of this platform. For the full information, see the link at the bottom of the page.
With help from: The Hoosier Anti-Racist Movement

Discord user "Volkmom" who appears on Identity Evropa's "Nice Respectable People Server," that was leaked in March by Unicorn Riot, has been identified as none other than Sarah Dye of Nashville, Indiana, owner and operator of Schooner Creek Farms. (And her husband Doug Mackey!)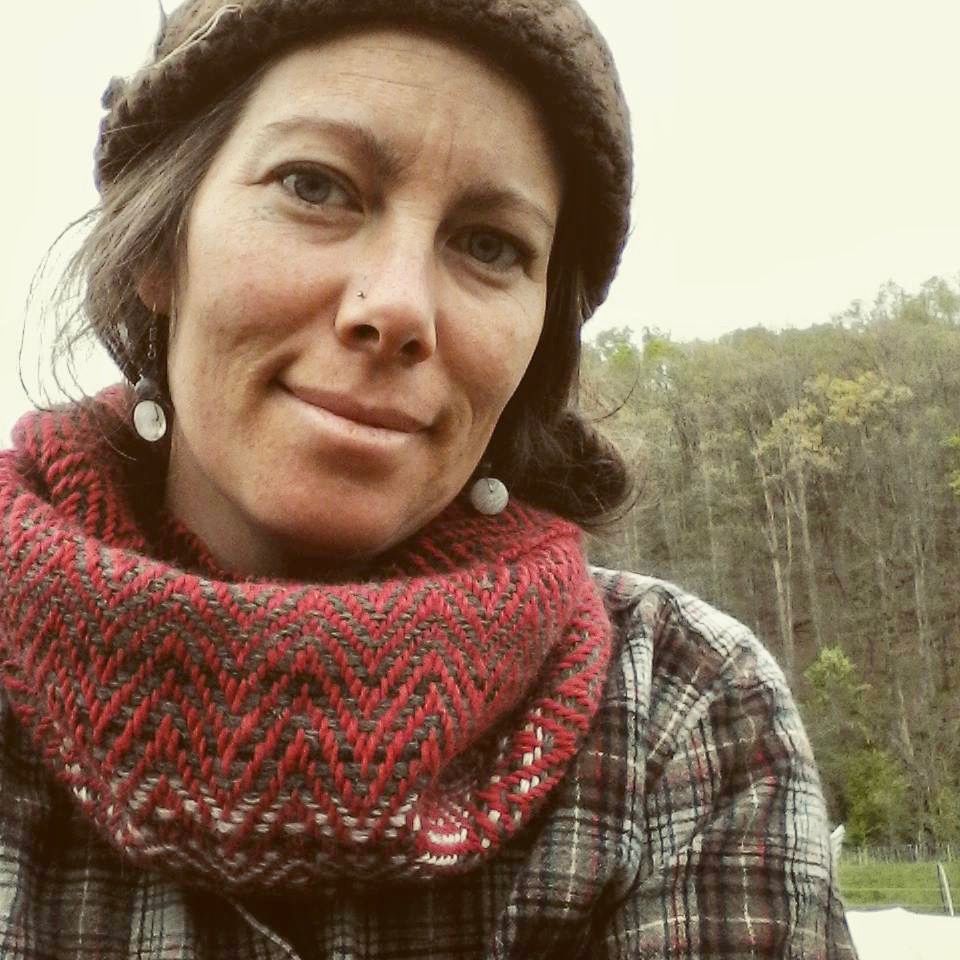 Identity Evropa, a Neo-Nazi organization, is most infamous for its involvement in the deadly Unite the Right rally in Charlottesville, where antifascist Heather Heyer was killed by James Alex Fields Jr. Identity Evropa's former leader, Nathan Damigo, is infamous for assaulting both a femme antifascist protester as well as an Arab cab driver in an armed robbery, where he pulled a loaded gun in the face of an innocent man for "looking Iraqi." They also have within their former membership an attempted Amtrak hijacker Taylor Wilson. After the Unicorn Riot leaks dropped in March, Identity Evropa scrambled to re-brand as the American Identity Movement. 
As if that wasn't enough, Sarah Dye and her husband Doug Mackey were linked to the synagogue arson in Carmel, Indiana because the arsonists were also Identity Evropa/American Identity Movement members.
Volkmom first joined Identity Evropa back in September of 2017, where her interviewer was "Erika" aka Erica Joy Alduino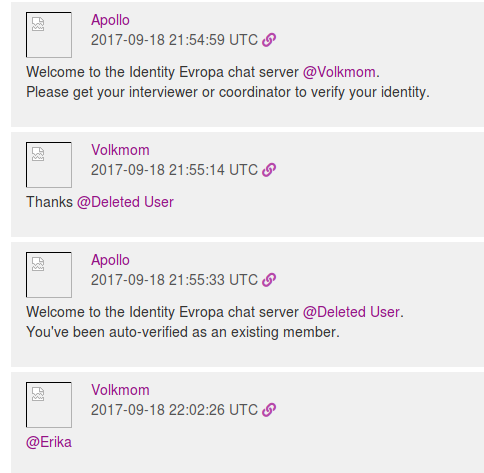 Then, in late September of 2017, she tells us she is pregnant with her third child.

In December of 2017, she tells us in her attempts to setup a coinbase wallet for trading cryptocurrency that she uses steemit, a blogging and social networking platform that uses the Steem blockchain. This is very important in her identification because globally, there are only about 1,200,000 users of steemit.  She also talks about obtaining SBD, or steem dollars, which is used on steemit.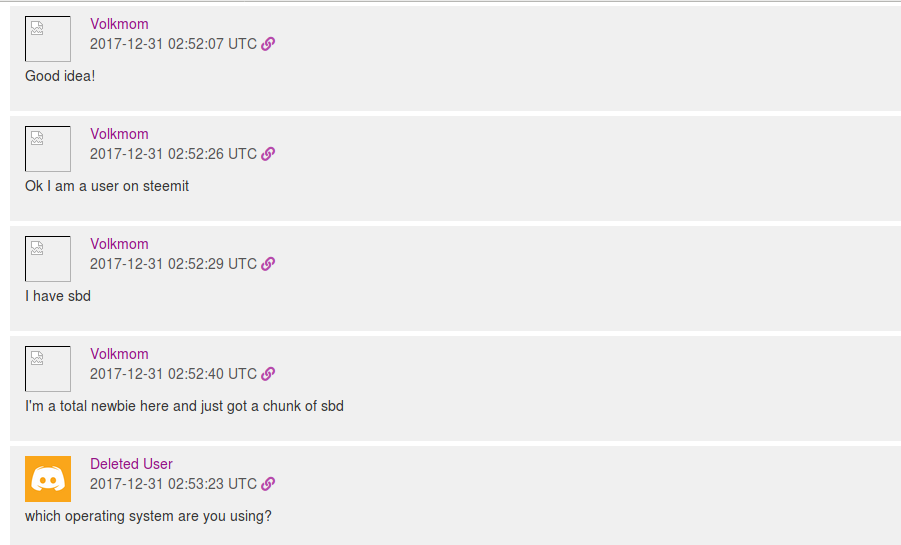 A month later tells us she was finally able to establish a coin base account when she received a new bank account.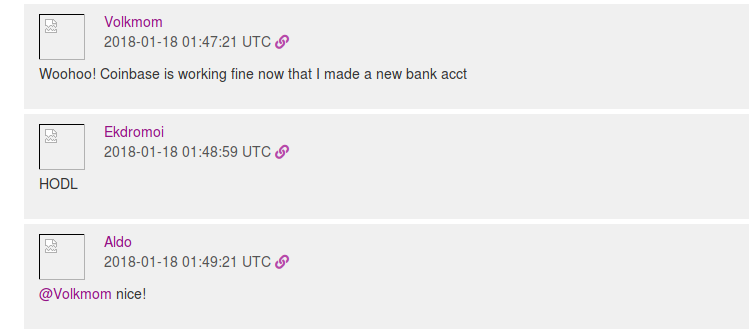 She also tells us her husband does MMA & Kyokoshin karate.


She posts several photos of her farm, as well as posting a photo of her newborn child. She also tells us that she home schools her children, including a reference to a homophobic slur in reference to books she has had to sift through. She tells us that she has a "normie FB" which she uses to access groups for home schooling.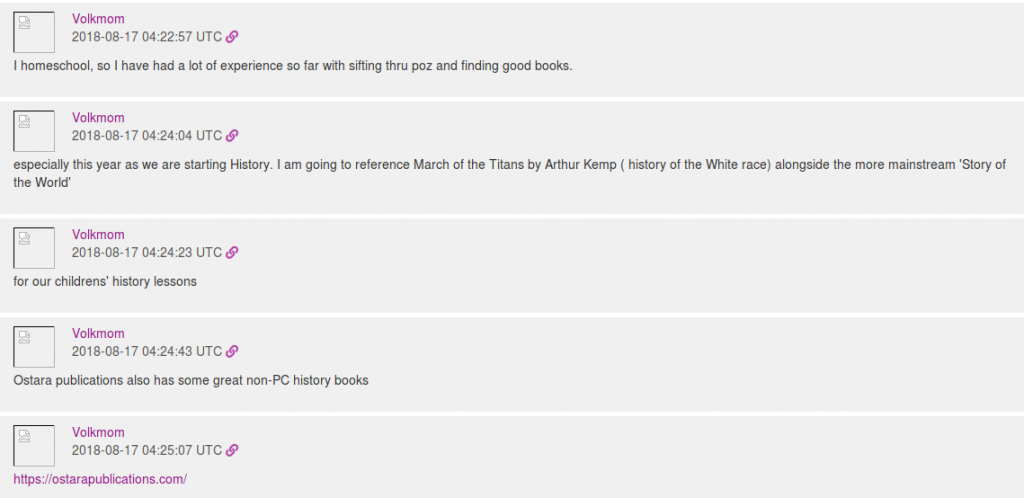 She later talks about using "non-PC" history books from that publisher, a reference to wanting to teach her kids politically incorrect ideas, an idea popular in white supremacist circles. She also tells us that all three of her children are boys.


She later posts photos of her sheep in her farm.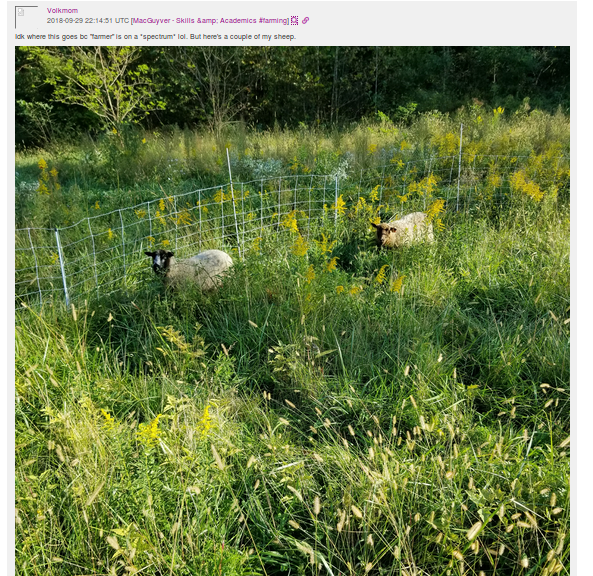 She even posts a photo of herself, though she does not show her face.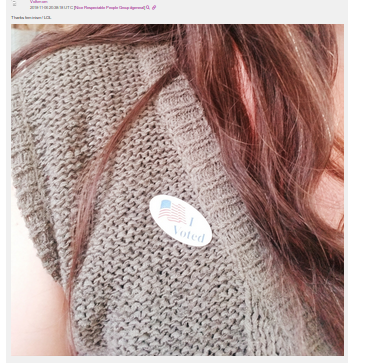 In a recently thread posted on May 25th, 2019 by Emily Gorcenski on Twitter, Kiyomi and Nolan Brewer, two individuals linked to an arson of a synagogue in Indiana were interviewed, and Nolan, also a member of Identity Evropa, named a time where they met two Identity Evropa members  "Sarah and Douglas," stating that "Volkmom" was on discord and this was Sarah.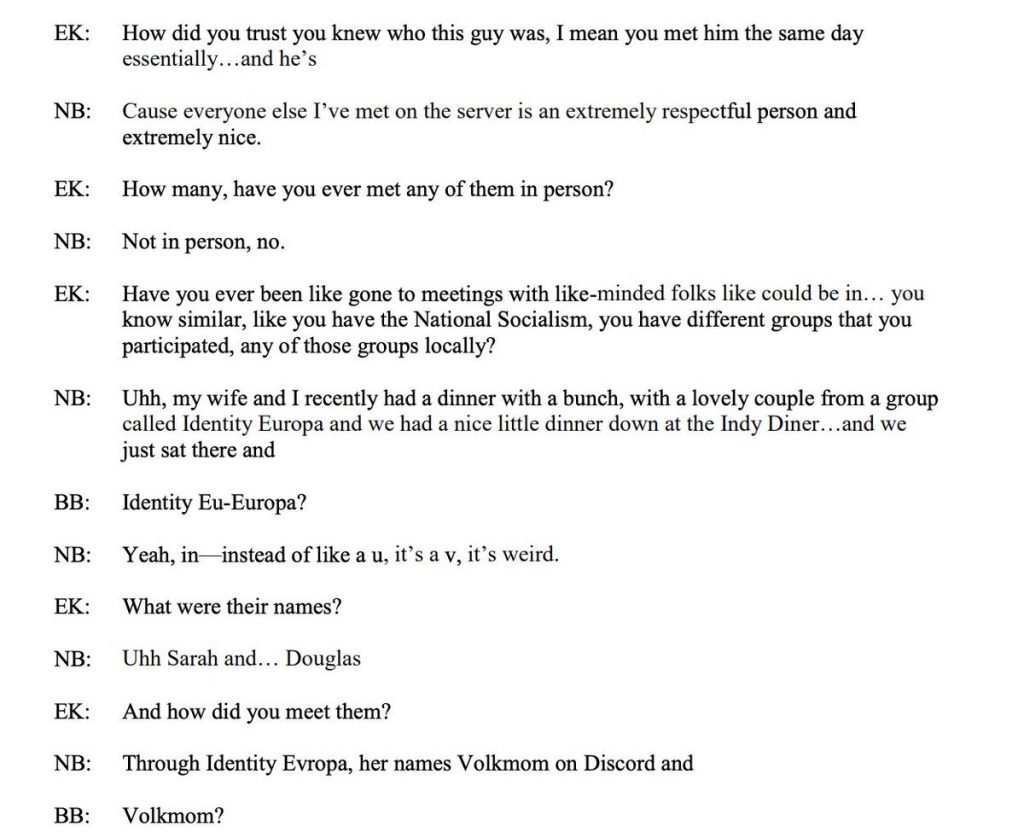 So, we know "Volkmom" on discord is a farmer, who has three boys including a new born, has practiced animal husbandry, uses a very rare (only 1.2 million accounts total) blogging platform called steemit, that they are from Indiana (where Kiyomi lived and where the arson occurred as well), that she has a normal FB account to network for homeschooling, what her complexion looks like and her general hair color, and that her husband's name is Douglas. Do note that the synagogue was in Carmel, Indiana.
Now we present to you Sarah Dye, who we've identified as Volkmom. First, Sarah Dye lives in Nashville, Indiana, only an hour and fifteen minute drive from Carmel, Indiana, the location of the synagogue arson. Sarah Dye's husband's name is Douglas Mackey.
Sarah Dye uses steemit, the rare micro-blogging platform. Here is an archive of her steemit account. In fact, she posts photos of herself.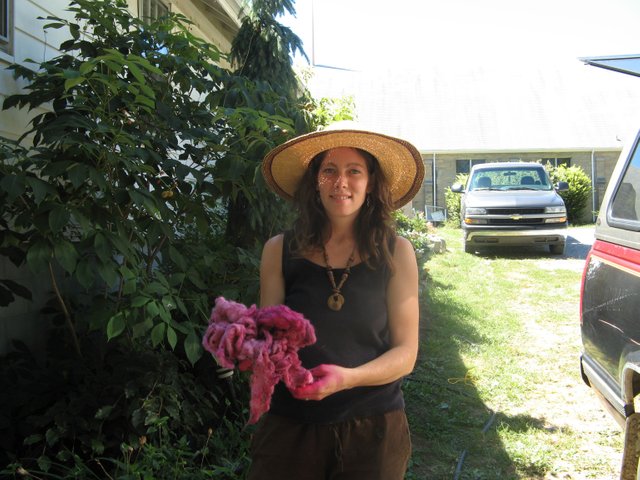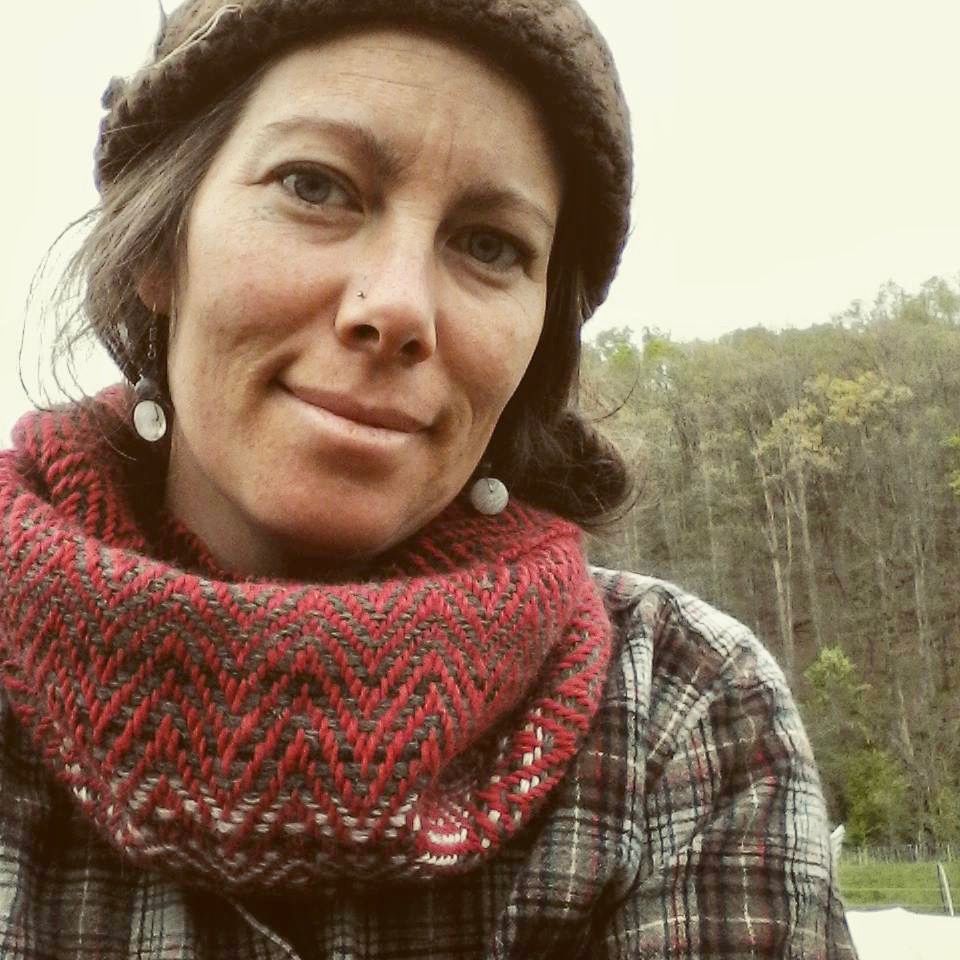 Remember how Volkmom was interested in Bitcoin? Look at what Sarah reblogs on her steemit account for her farm.


Or what she talks about in her blog posts. She even mentions SBD and localbitcoins, just like Volkmom!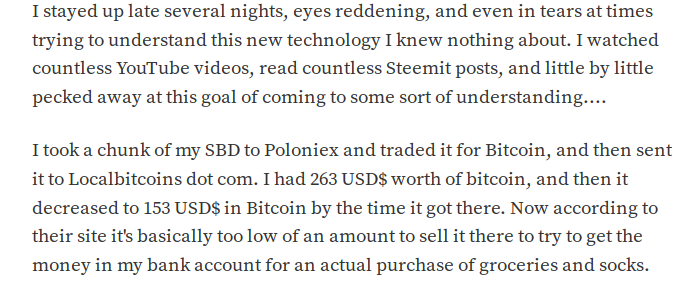 Hey- Sarah Dye also posts about sheep on her steemit.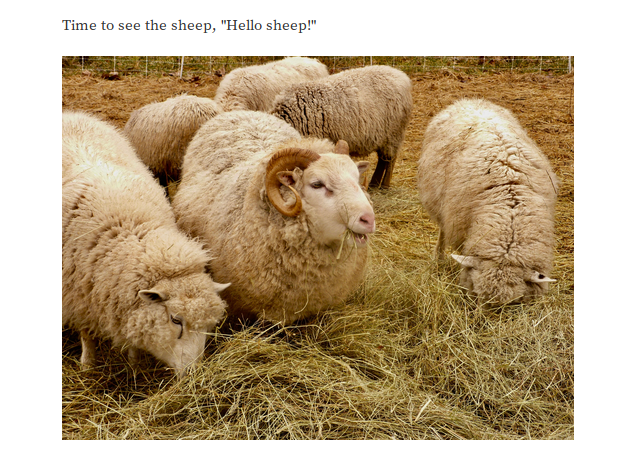 We know that her husband's name is Douglas, thanks to an old post in a Brown County, Indiana feature. It also lists in this old blog post that her eldest son is Thuja, and that he would be followed by younger brother in September. This old blog post doesn't include her youngest son because she wasn't pregnant with him yet.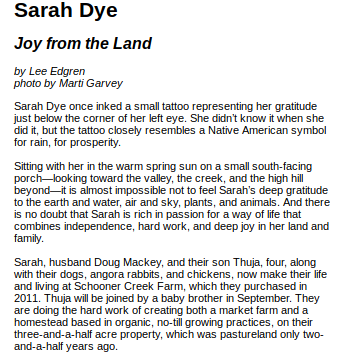 So how many farmers in Indiana that practice animal husbandry, own sheep, have a husband named Douglas, use a micro-blogging platform with a very small user base, has three children that are all boys, is married to a person named Douglas, has a "normie FB" and that owns bitcoin she traded on local bitcoins? Only one- Sarah Dye of Nashville, Indiana.
Still not convinced? Check out this exchange between "Piet Dietzel" aka Peter Earl Diezel who we unmasked earlier this year, "Volkmom" aka Sarah Dye and "Brunswick" aka Michael Vespa (article coming soon on him).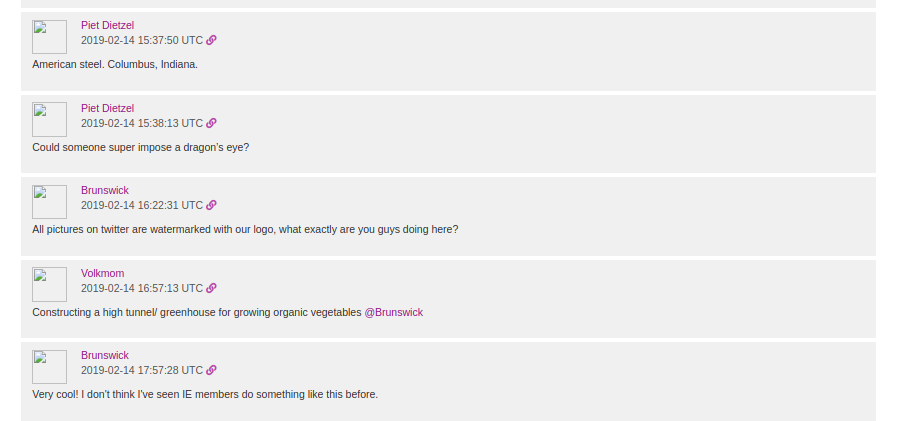 What were they talking about here? Well, Peter Diezel posted photos of constructing a greenhouse just above that. Look at whose name is spotted on one of the steel bars.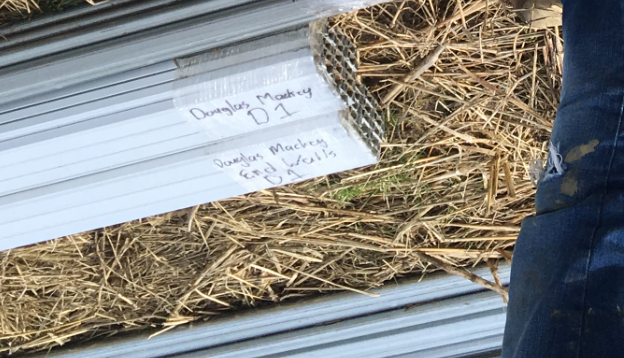 Sarah Dye and Douglas Mackey operate Schooner Creek Farms and sell to the local farmers markets. At least they did…until the locals read the same arsonist connections to farmers "Sarah and Doug" and then they put two and two together, noting that Sarah has been saying racist stuff for years in person and online. On the Russian version of YouTube, on her channel Volkauscity, she posts as Volkmom, explaining her connection to the Alt-Right and herbalism.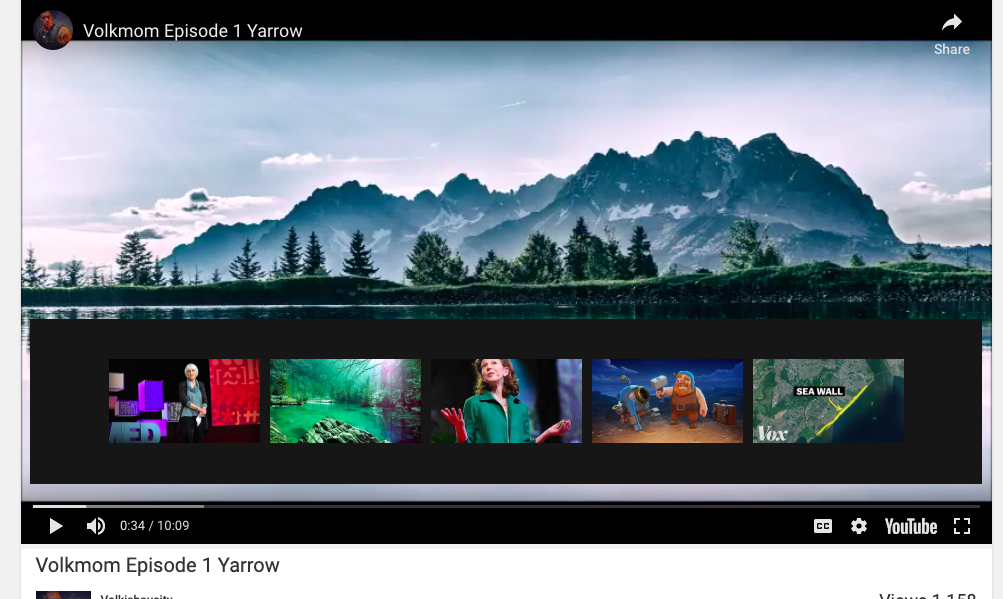 In case she takes down her racist channel, the archive is here: http://archive.is/PE2Nl
The farmers market communities of Bloomington and Nashville, Indiana have taken a stand against the fascists at Schooner Creek. Sarah has been removed from the Nashville Farmers Market Board and is no longer vending at the weekly market. The Bloomington community circulated flyers warning attendees about the fascist farmers and are seeking to have her Schooner Creek farms disbarred from vending at the market.
From a public Facebook post of a Nashville farmers market community member: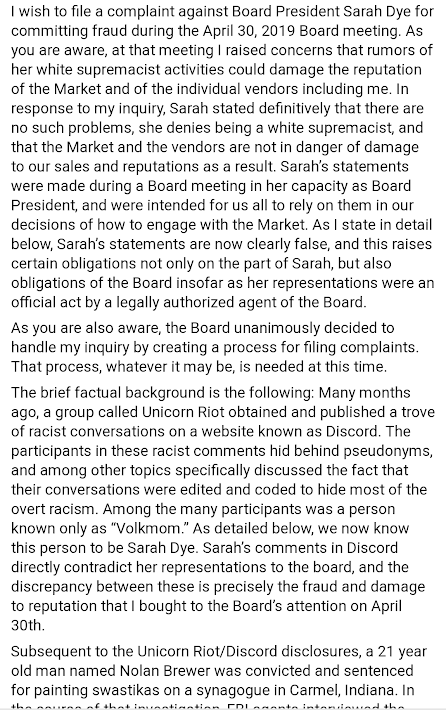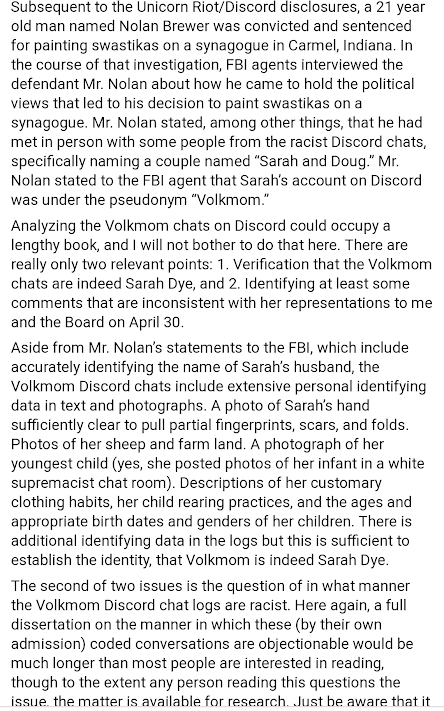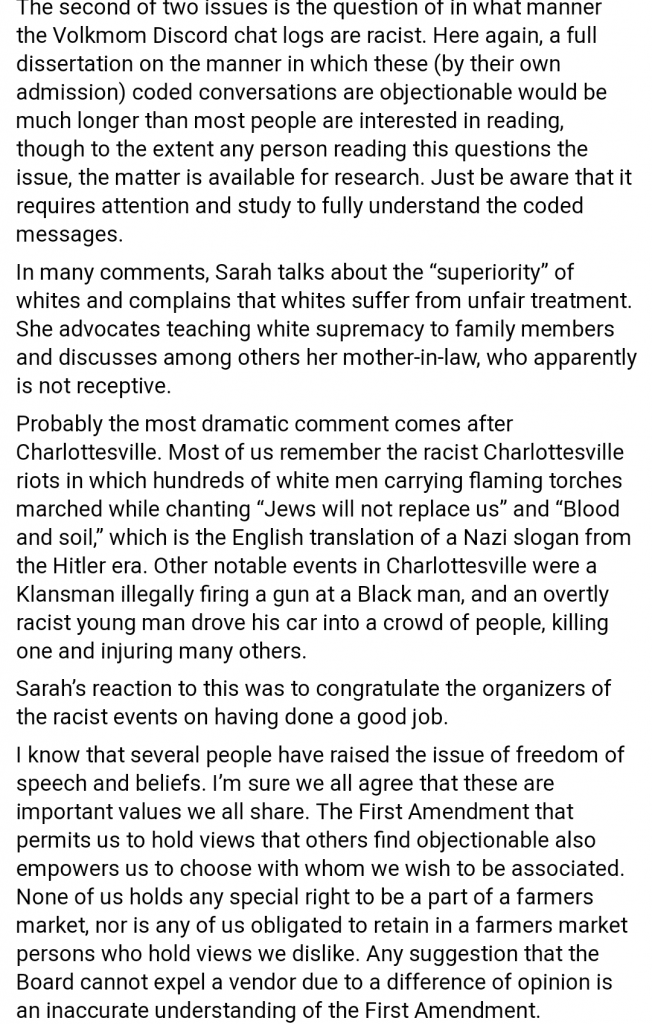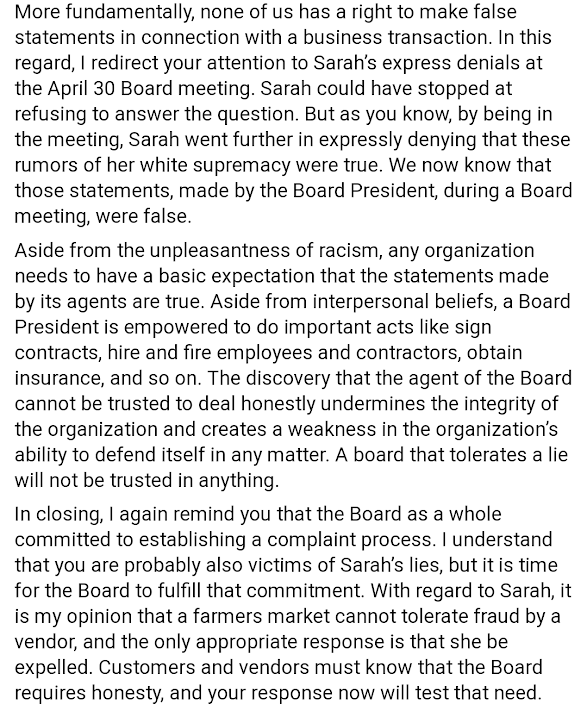 After that public post, community members circulated an impassioned and serious petition for Schooner Creek Farm's removal from the farmers market with 230 signatures and several endorsing organizations. The organizers are encouraging concerned citizens to send polite letters to the Advisory Council members via farmersmarket@bloomington.in.gov or through the Farmers' Market staff at 812-349-3738
Next Monday, the Farmers Market Advisory Council will meet in an extra-large room to address the Nazi Farmers situation, where the council will welcome public comment. For more information, see the Facebook event: https://www.facebook.com/events/443127609805322/
In the meantime, feel free to tell Sarah Dye and Doug Mackey, the fascist farmers of Schooner Creek exactly what you think of them! They can easily be found at their public website:
http://schoonercreekfarm.org/contact/
https://www.facebook.com/Schoonercreekfarmpage (it's since been deactivated)
You can read redacted info about Sarah Dye and Doug Mackey here
If you have any additional tips, send them to: panicinthediscord@riseup.net or DM them to @discord__panic on Twitter