Olivia Reinhold Myers has at least two obsessions: her Instagram account, where she is a wannabe influencer, and neo-nazism. Olivia is a member of Identity Evropa, now called "AIM," whose white nationalist mission she has sought to spread all over her university campus. Though barely a presence in the IE Discord, she said enough to leave a trail:
Her appearances on Identity Evropa's Slack were noteworthy, popping up in their server and as was her stupidity in using her full first and last name as her username. After comrades at Unicorn Riot leaked all the white nationalist group's Slack channels, we were able to piece together: that Olivia Myers is of college-attending age, lives near Rollins in Florida and so with the help of databases, we found only one Olivia Reinhold Myers, a 21-year-old who lives in or near Winter Park, FL. Finally, we were able to connect Olivia M to Olivia Reinhold Myers.
Please join us to say hello to Olivia Reinhold Myers, everyone!
A quick search of her full name reveals that Olivia has accounts on all the usual social media platforms. You can check out some archived accounts yourself here:
Facebook: http://archive.is/lPz04
Instagram: www.instagram.com/livrmyers
Twitter: www.twitter.com/livrmyers (http://archive.is/LUWpf)
LinkedIn: https://www.linkedin.com/in/livrmyers?
Notably, her LinkedIn, reveals a photo of her face, and that she goes to Rollins College in Winter Park, Florida. Rollins is where "Olivia M" mentioned she wanted to put up IE propaganda in the IE Discord server (see screencap at the top of the post).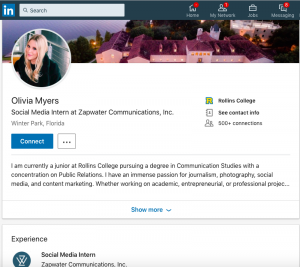 According to her LinkedIn, Olivia worked for former Republican Representative from Texas, Pete Sessions. Connections between Identity Evropa and the Republican Party were recently outlined in a Splinter article: The Leaked Chats Show How A Far-Right Group Is Trying to Infiltrate The GOP
If anyone at Rollins or the area surrounding Winter Park, FL is worried about a neo-nazi in the neighborhood, you can contact the school and tell them all about it.
Olivia is studying communications and public relations, at least for now!

Olivia may pretend to be a nice young woman on social media, but her membership in Identity Evropa reveals that she is a vile bigot. Since after the Unicorn Riot leaks, Identity Evropa decided to permanently retire its name and imagery, rebranding itself into American Identity Movement let's keep an eye out for more fascist trash, this time with a red-white-blue color scheme to pop up at Rollins and Winter Park.
Panic! in the Discord Antifa created this article.
If you have tips, send them to: panicinthediscord@riseup.net
This article has been redacted. You can read the full version here: http://archive.fo/6SM4c
If you want to contact Olivia's school, you can find them on Twitter @rollinscollege. Further information is available at the above link.