Unicorn Riot's Discord Leaks, dumping internal communications of the white nationalist hate group Identity Evropa shook the organization to its core. Images and posts exposing the unbridled anti-semitism, racism, homophobia, transphobia and general intolerance flooded the internet then news articles outlining the group's close ties to the GOP went viral.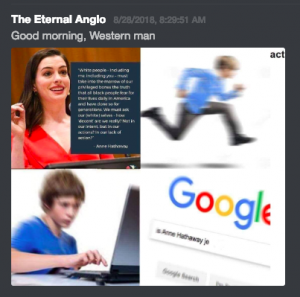 Immediately after the Discord dumps, Patrick Casey, CEO of Identity Evropa announced the permanent retirement of the organization, rebranding it into the American Identitarian Movement.
Unicorn Riot explains,
While Identity Evropa presents itself as "identitarian" and merely "pro-white" without advocating hate for other races, a look behind the curtain lays bare the group's basis in crudely watered-down National Socialist ideology.

Over 240,000 leaked messages from the main server, shared over the chat platform Discord, have been obtained by Unicorn Riot and published in full as part of our Discord Leaks platform. The leaked chats provide what is to date the most intensive look at the behind-the-scenes workings of Identity Evropa, which is perhaps the most active fascist group in the United States today.
Following a wildly successful deep dive into the Identity Evropa Discord servers, we are proud to bring you the subsequent detailed dossiers on Discord users, compiled by combing through messages finding context clues, the members' own poor executions of #opsec then comparing it to unearthed social media profiles, publicly available information and anything else we could find in order to present Panic! in the Discord doxxes. Follow the posts of these articles and more about the dissolution of this Nazi group at our twitter: @discord__panic
Please be aware of trigger warnings and content warnings in the forthcoming posts.
Browse the  Nice Respectable People Group Discord server, Identity Evropa's main server with 241,941 messages from September 2017-March 2019
Email us with any tips: panicinthediscord@riseup.net